We have a number of fun games and competitions to add to your next event. Make a bracket, place pickup games, or make a team with any of our options below. All yard games and interactive inflatables are add-on rentals only, meaning they cannot be rented without an inflatable, dunk tank, or margarita machine rental.
Inflatable Ax Throw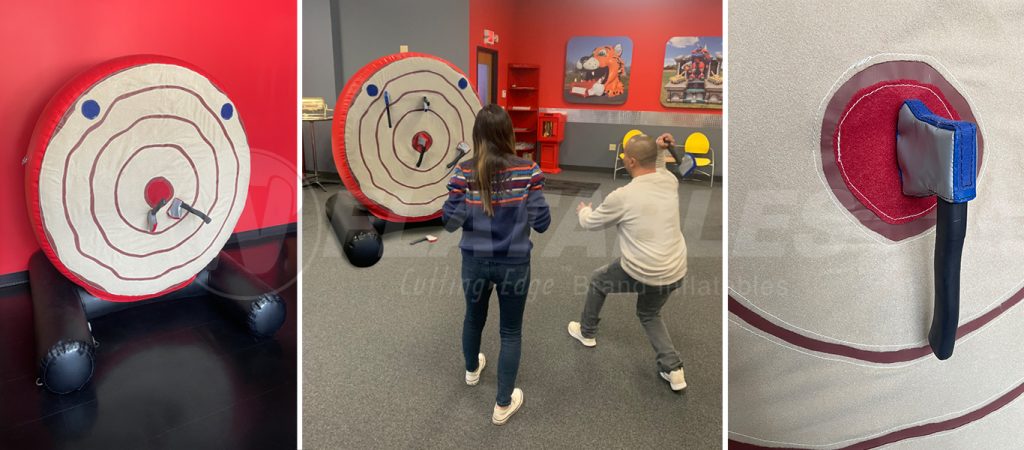 This inflatable ax throw game features a hook-and-loop (aka Velcro) interface, where axes stick to the target when thrown well. It is a captured air inflatable, meaning it doesn't need a continuous supply of air, and thus a plug, after it is inflated. This inflatable version is notably safer than throwing real axes at targets as well, though be sure to still set the game away from areas where people may walk by or gather. Target is 5 feet in diameter and comes with six axes in two colors. $65.
Tumbling 2x4s
Imagine the classic game of Jenga scaled up to 60x the volume! That's what you get with our Tumbling 2x4s game. Often called "Giant Jenga" by people that don't respect copyright law, this game uses 54 blocks initially stacked into 18 stories. Like the classic game, the blocks in our game come in three depths (this is the key that makes the game work!) so just like the game some blocks will slip out with ease, and others are virtually impossible to remove. $35.
Giant Four In A Row
Games get a lot more fun when blown up by four times or more. This 4 feet wide by 3.5 feet tall expanded set of a childhood favorite is perfectly sized for adults and children to play. $25.
Mini Yard Pong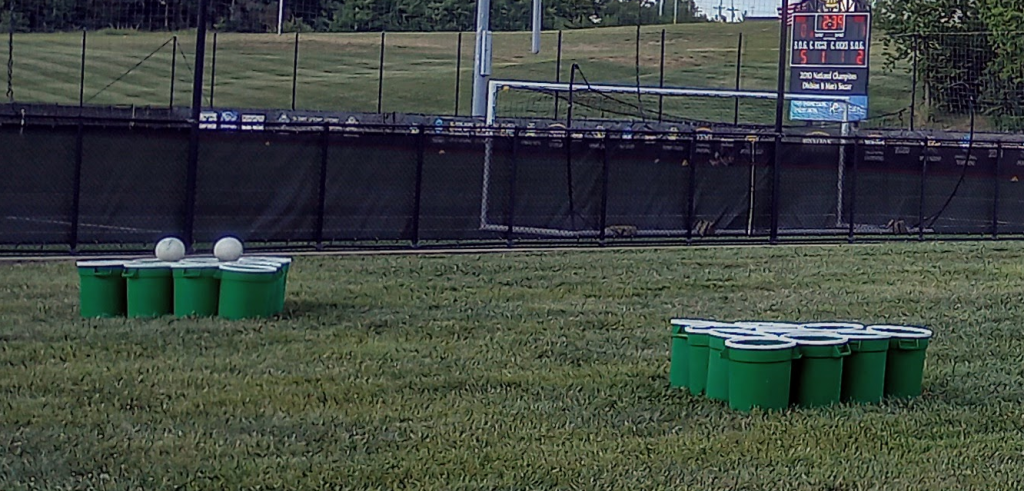 What happens when you replace 16 ounce cups with 55 gallon garbage cans, but then realize that's just too large and unwieldy, and downsize it to 10 gallon garbage cans? Mini yard pong! 20 10-gallon bins and a couple balls round out this set of your favorite college pass-time, supersized for backyard play. $50.
Bag Toss
AKA Corn Hole, but some pendants might object to these boards being 3 feet long instead of the "regulation" 4 feet, and not made of wood. Anyway it's the same basic game and sure to bring hours of fun and competition to any event. Up to three sets available. $20.